THE SESSION TAKES PLACE ONLINE VIA ZOOM. 
INVESTMENT: £120
Preparation for the session:
You'll be sent a thought-provoking questionnaire to complete prior to our meeting from which I'll compile your Personalised 'Magic Map' which we use to bring focus to the session and makes sure we hit the ground running.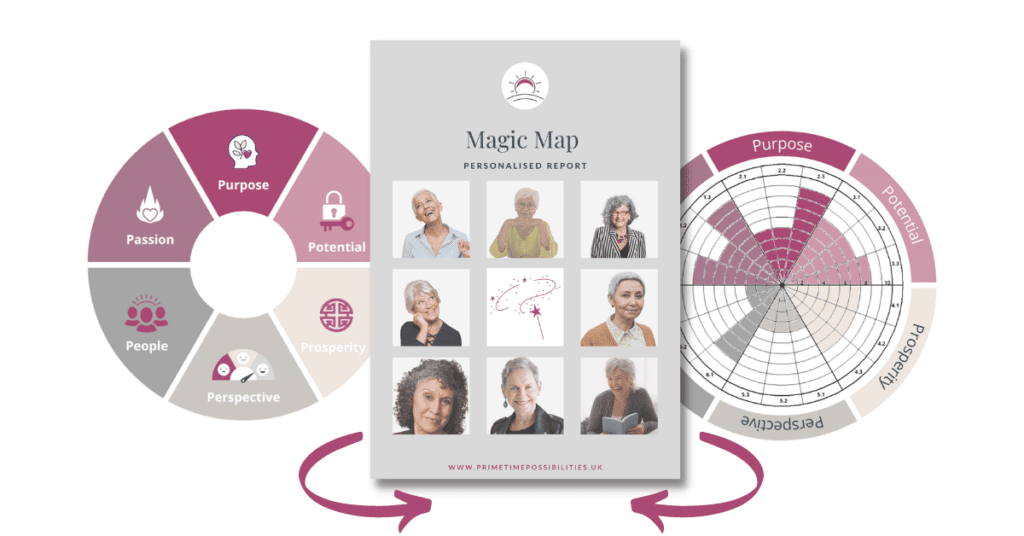 The 'Magic Map' personalised assessment uses six key elements proven to be essential for a healthy, happy and fulfilling Third Age.
The session: 
This deep-dive, hour long personalised session will help give you a fresh perspective on where you are right now and where you'd like to be – the two essential elements of any change, and give you the clarity and confidence to start your journey on the right path.
It's important to note, that the 'power' of this session lies NOT just in the hour itself but in what you are able to DO as a result of our hour together.
It's designed as a springboard to help you:
Move out of crippling 'analysis paralysis' and move forward.
Use your past and present to help redesign your future.
Review key areas of focus as identified in your Magic Map report.
Start to develop a clearer vision of your desired retirement lifestyle.
Replace negative, unproductive energy with a powerful injection of energy, motivation and inspiration.
Gain a fresh perspective on what's possible
Walk away, re-focused, re-energised knowing the next steps to take on your adventure.
Get a big picture overview of your retirement in a visual and tangible way.
And nobody – I repeat NOBODY – leaves without a massive shot of clarity, motivation and momentum to help you on your way!
Simply book a time and date for your Prime Time Review session by heading to the link below. Once you've secured your spot, I'll email you the link to the questionnaire, together with full payment and session details.
It's as simple as that!
What impact is 'not doing' having?
How will it feel if you're in exactly the same place this time next year?
What difference would sorting this make?
Who is going to make it happen?